9 Ways Young Living Helped You Care for Your Family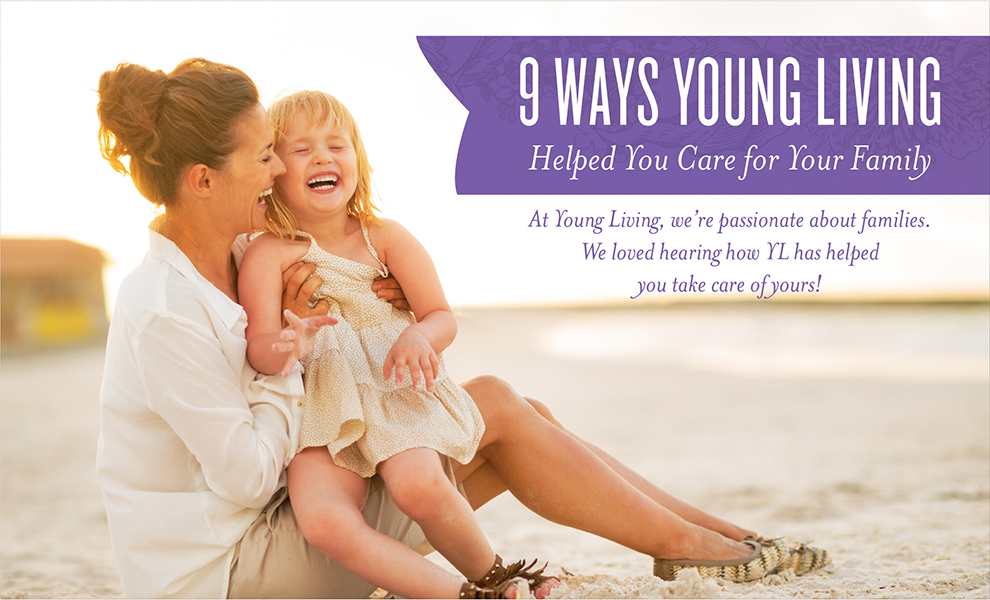 Young Living is more than just products—it's a lifestyle! Nobody knows that better than our members, who shared their thoughts with us about how the Young Living lifestyle has helped them take care of themselves and their loved ones.
Here's what our independent distributors had to say!
"Young Living has changed my perspective, given me hope, and empowered me to take charge of my health. Before I found Young Living, I knew that my lifestyle was unhealthy, but I didn't care because I was very pessimistic about my future health. As I began researching, I realized that my perspective was all wrong. My future wellness is within my control; there is no need to play the victim. God provided us with everything that we need on this earth to not only to survive, but to thrive. With the help of Young Living, my family and I now reap the natural bounty that God has given to us!"

—Heather Hicks, WA
"I feel empowered as a mom to take better care of my family, and I love knowing I am giving them the best!"

—Ashley Hall, NC
"With Young Living, I feel free! I am free to research the products and the supplements and free to try and experiment until I figure out what works the best for us. I feel empowered with the wellness products and naturally derived products. I don't have to settle for what I am given or what has traditionally been available. I have a whole world of possibilities at my fingertips because of YL, and I love that from oldest to youngest, I can take care of my people with my Young Living products!"

—Laura Thompson, CO
"Young Living's oils and products have offered support to my wellness I have not felt with other products. The oils are an easy and safe solution for my whole family's needs. The oils smooth out our day, and my only regret is not finding them sooner."

—Sarah Moore, HI

"We have only been pursuing the business for eight months, but are already almost Silver! We've been able to see people's lives changed, and the personal development is the best! We've seen ourselves grow, we've overcome challenges, faced fears, and become people we never dreamed we'd be!"

—Angie Hepp, OK
"My YL business has given me so much confidence. I am a leader now, and it is such a rewarding business. I absolutely love coaching my team and discussing oils on a daily basis. It is so amazing when you can talk to someone about wellness and you are so passionate about it. I never in a million years thought I could find a passion within a career. Although this isn't my full-time job, it is in my two-year plan to make it be. This business has shown me you can love what you do and be incredibly passionate about a company and its products."

—Amanda Aintrazi, NY
"My why is bigger than me and my family. Helping others with the oils and seeing the oils change others' lives drives me. The Young Living business opportunity has blessed us not only financially, but with new friendships, experiences, and more. It has greatly enriched our life, and we are forever thankful."

—Sarah Moore, HI
"Young Living has put us back in the driver's seat for our own wellness and abundance! The business has given us the opportunity to give back, and we love that!"

—Lisa Pfeifer, TX
"We are so much closer to achieving so many of our family goals because of the financial benefits of Young Living and what I'm learning through personal development and leadership training. Our family is paying down debt quickly, giving to causes we care about, and getting ready to buy our first home. My Young Living business has played a significant part in all of those things."

—Emily Burton, MI
thanks
youngl
iving
#youngliving